New state of the art facilities at Castle Tower School
Following an investment of £20m, Castle Tower School opened its doors to its 318 pupils at the start of the new school term on Wednesday 6 September.
The state of the art facilities include specialist features such as a hydrotherapy pool, sensory courtyards and rooms, play facilities and a full height climbing wall.  Specialist home economics kitchens, science labs and art rooms sit alongside a college-style lecture theatre, social areas and a music room.
Isherwood and Ellis architects, the Education Authority and a school-based design team have worked together to deliver the very best design to meet the needs of all students.  The result is an outstanding facility which accommodates nursery, primary and post primary pupils with a range of needs.  The cost of the build was funded by the Department of Education.
The building was overseen by Principal Raymond McFeeters, who was recently appointed a Director of the Controlled Schools' Support Council (CSSC).
As the doors were opened to pupils for the first time, Raymond McFeeters said,
This new building is an incredible facility which will transform the education we can provide for our pupils, and allow the school to lead the way in the development of learning and teaching for young people with special educational needs. 
Our pupils begin their education at Castle Tower as young as three, and the design of the school will allow a sense of progression.  Once pupils have completed their nursery education, they will move up to the primary area.  The post primary area is on the opposite side of the campus, and so those in year 8 will have a distinct feeling of moving into 'big school' when the time comes.
As a school community, our aim is to prepare our young people for life outside school, and I am thrilled that many aspects of the building will enhance the learning of life skills.  For example, the post-primary wing is two-storey, with a large central staircase which can also be used as a learning space, is a prime example of this.
Sports facilities are also important, and Castle Tower now boasts a sports hall, fitness suite and an outdoor floodlit 3G pitch.
The creativity and attention to detail that has gone into Castle Tower is clearly evident, from the types of furniture in use, the playground equipment and the state of the art 'Wizefloor' projection system.
It was important that Castle Tower was bright and light, with flexible spaces,
said Raymond McFeeters. 
There is no handbook of what a 'special school' should look like, so we took the opportunity to be creative, and build a facility that would give pupils a sense of pride in going to school.
He added,
Challenging perceptions and changing mindsets around special schools and their students is important.  This new school now presents us with opportunities not only for our young people to grow and develop as individuals, but for the local community to come in and use the facilities and engage with us.
We are very keen to show off Castle Tower, and have plans for a community day in the near future to allow people to visit and see the fabulous facilities for themselves.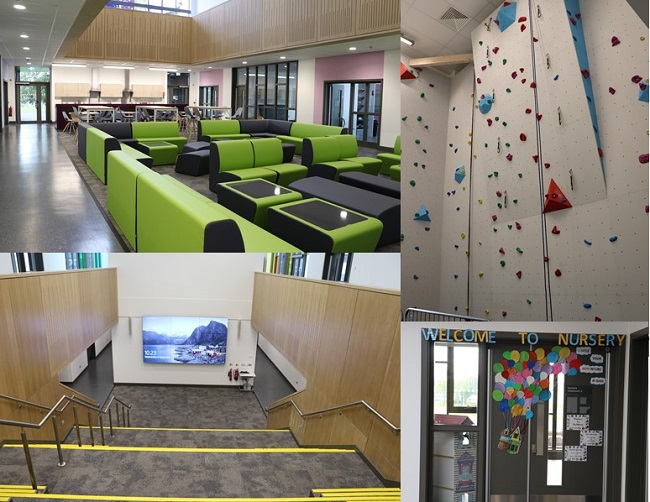 Sara McCracken, CSSC's Head of Marketing, Research and Communication had the pleasure of visiting the school on the opening day and said,
It was wonderful to witness Castle Tower pupils turning up for their first day in their new school.  To see the faces of both parents and pupils light up as they entered the new facilities was a real privilege. 
Staff went out of their way to make sure everyone entering the new school felt valued. 
"In terms of the building, it is absolutely fantastic and an excellent model of what a school should be.  Congratulations to Mr McFeeters, his governors, staff, pupils and all who were involved in the project.